Manaslu region is untouched and newly famous trekking region of Nepal. It is located in the west-central part of Nepal. Manalsu is a name of the mountain, which are the eight highest mountains in the world with the height of 8,156m. Nepal government has been declared Manaslu as Manalsu Conservation Area in December 1998 to conserve the natural resources, culture heritage, and wildlife and to promote eco tourism to develop livelihood of the local people. The area covered under the conservation zone is 1,663 square kilometres (642 sq mi) and is managed by the National Trust for Nature Conservation (NTNC) of Nepal.
Manaslu region offers a range of trekking option to the travelers. Manaslu circuit trek, Manalsi Lower Eco Trek and Tsum Valley Trekking are some popular trekking route of this region. The popular Manaslu trekking route of 177 kilometres, skirts the Manaslu massif over the pass down to Annapurna. The Nepalese Government only permitted trekking of this circuit in 1991. The trekking trail follows an ancient salt-trading route along the Budhi Gandaki river. En route, 10 peaks over 6,500 metres (21,300 ft) are visible, including a few over 7,000 metres (23,000 ft). The highest point reached along the trek route is the Larkya La at an elevation of 5,235 metres (17,175 ft).
Bellow are the popular trekking routes of Manaslu region with its well designated day to day itineraries.
ITINERARY
Arrival at Kathmandu, hotel transfer
Our airport representative will pick you up from the airport terminal and you will be then transferring to the hotel in our private jeep. We will hold a pre trek meeting where we will brief you about the trek and introduce you to your guides.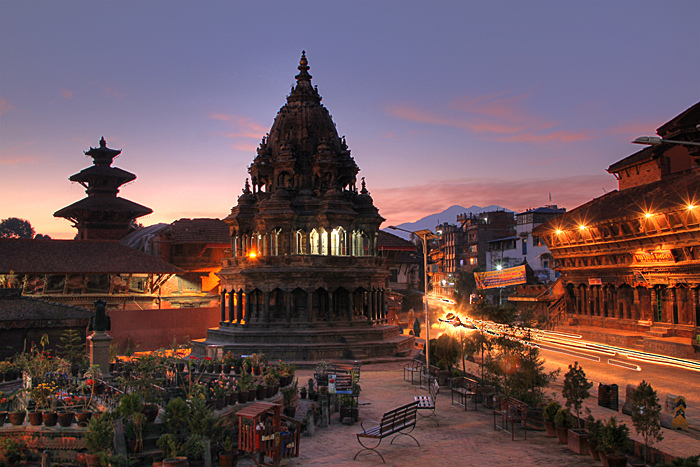 Kathmandu sightseeing and preparation for Manaslu trek
Today is the day when you will be having your city tour. City tour starts at 8:00 am after having your breakfast from the hotel. You will have an authorized city guide at your disposal. You will be visiting World Heritage sites such as Bhaktapur, Patan and Kathmandu Durbar square. Next, you will be visiting Boudhanath and swyambunath stupas one of the holiest Buddhist shrines in the world. At last but not the least we have Pashupatinath temple, one of the significant Hindu temple attracting Hindu devotees from all over the world. The temple is dedicated to Lord Shiva. Overnight at hotel in Kathmandu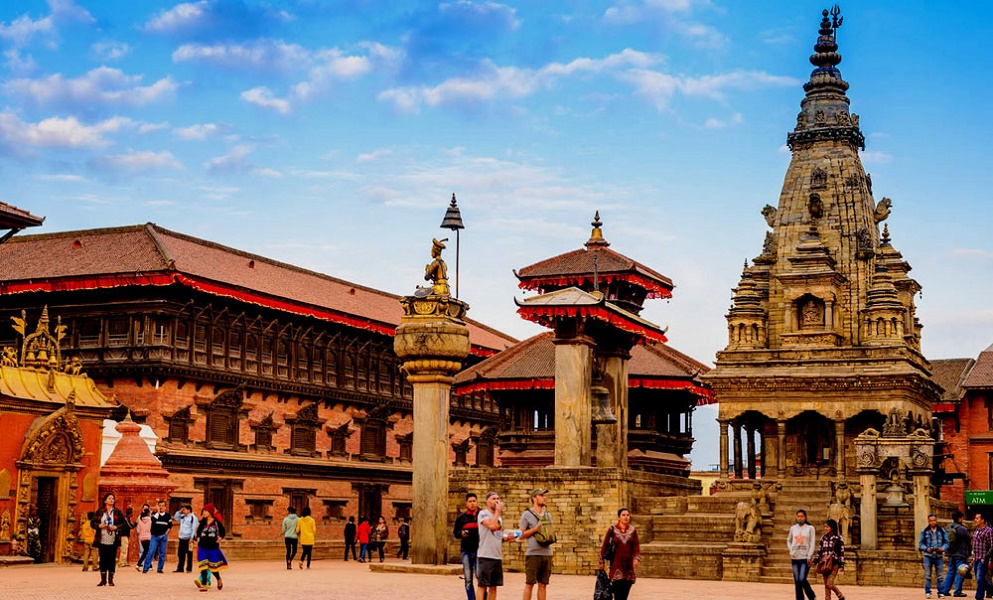 Drive kathmandu to Soti Khola
Our trek to Manaslu starts with the early morning drive from Kathmandu to soti khola via Arughat which takes about 8-9 hours. Soti Khola lies at an elevation 730m above sea level and is an important point which leads Manaslu circuit. The drive offers you beautiful views of landscapes and mountains.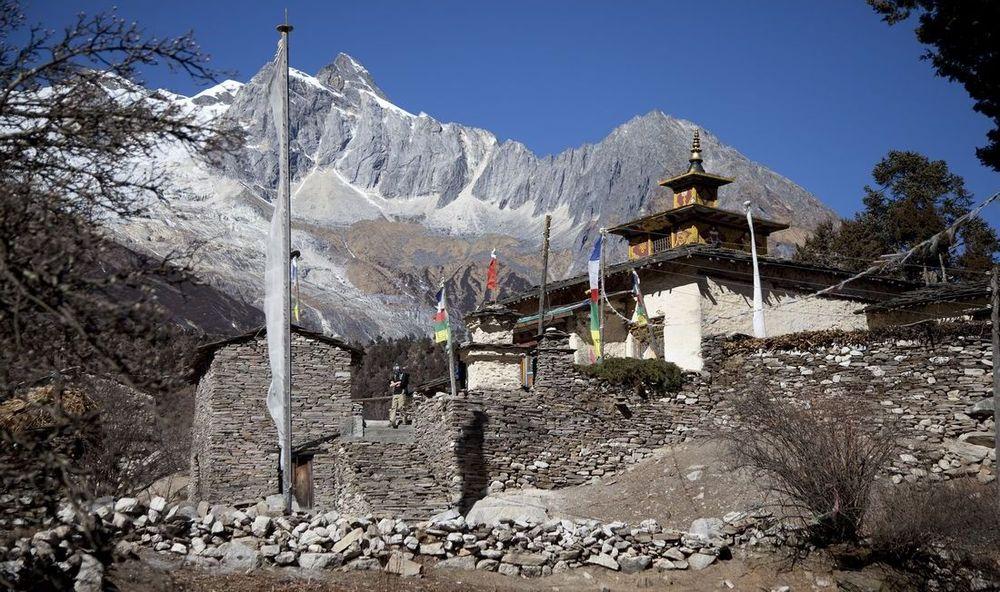 Soti Khola to Maccha Khola (14km) 5 to 6hrs walk
Today the trek starts from soti Khola to Maccha Khola. Starting from an elevation of 730m, you will soon leave the town behind, cross the small mountain stream over an old bridge and enters into Sal forest of shiny leaves. Besides, the unspoiled cultural expedition in lapubesi and khanabesi will enchant your trip wonderfully. the eye-catching charisma of mountain ridges, unique culture, landscapes and a virtually flowing budi Gandaki will add another gratification towards your trip.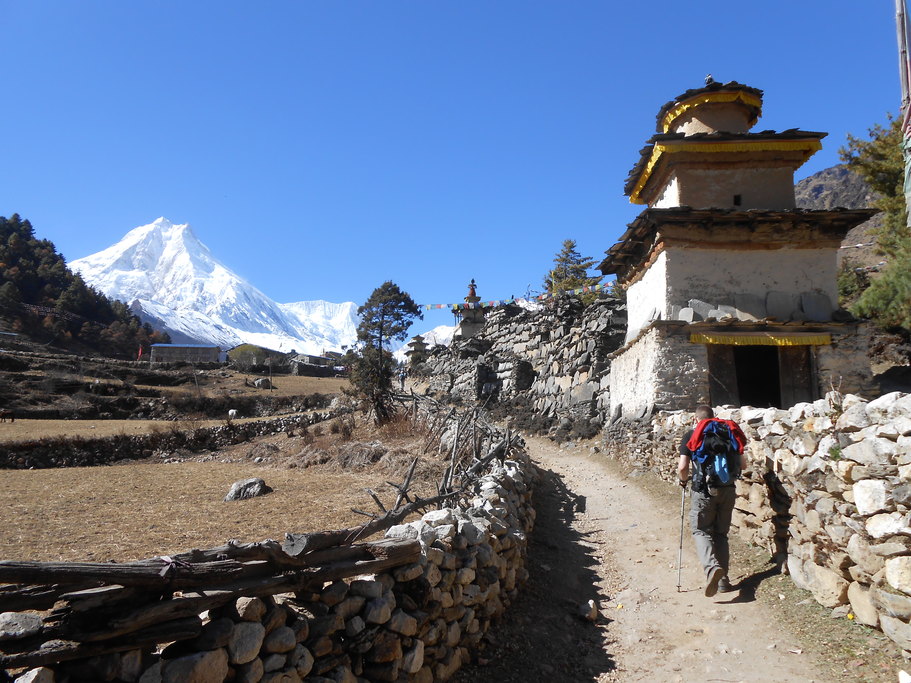 Maccha Khola to Jagat (22km) 5-6 hrs walk
Another exciting trial route which brings out the fun adventure and journey towards your trial. This trial offers you with the amazing Himalayan foothills, remote settlement forest and valleys .your journey starts from maccha Khola passing throughout the Gurung village Khorlabesi Dobhan, Yuru Khola Budi Gandaki river and also blooming Rhododendron flower, gorges along with waterfalls on your way. Besides, this trail even offers you an opportunity to explore the rare wildlife such as musk deer, Himalayan fox, snow leopard etc. overnight at Jagat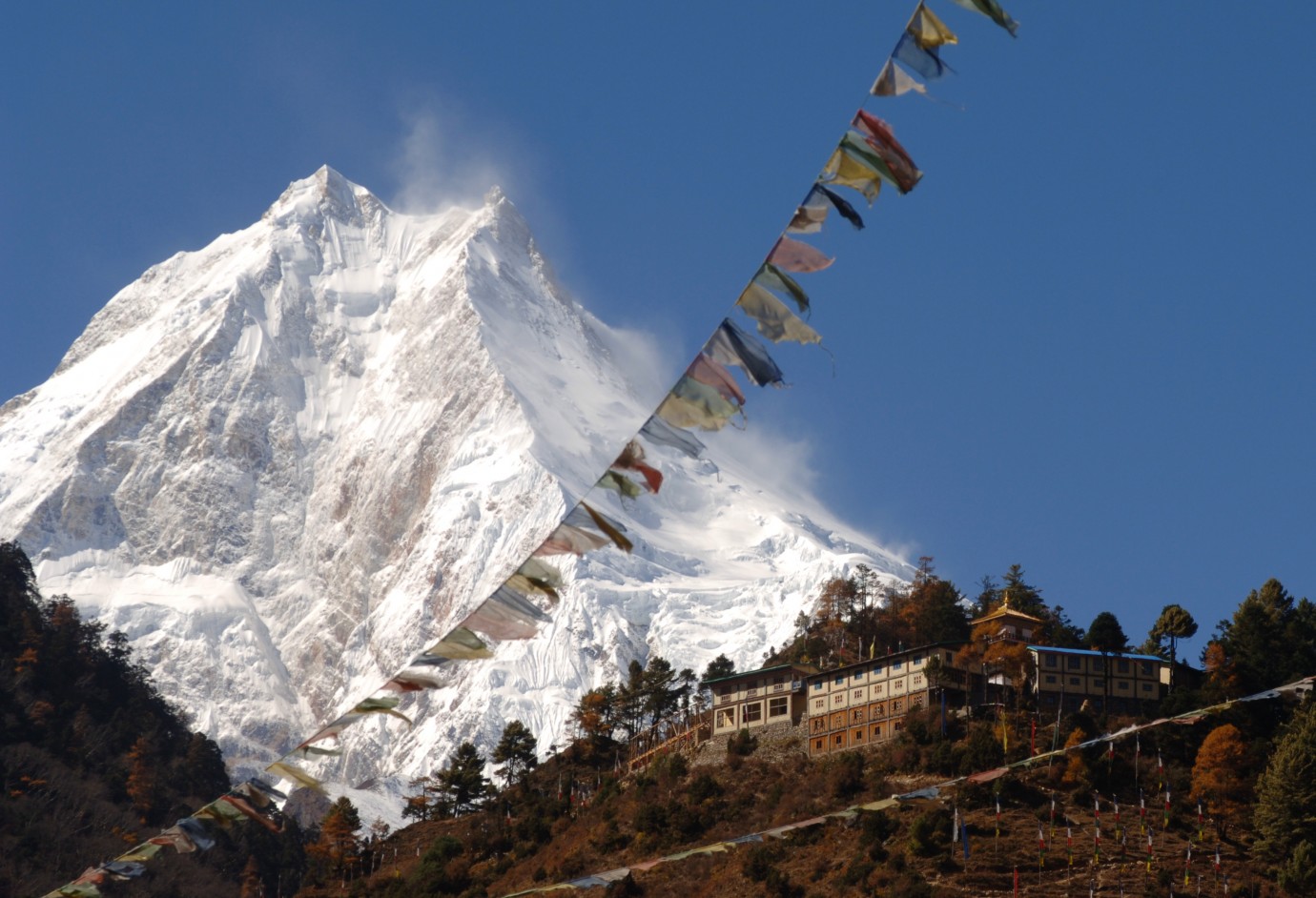 Jagat to deng (19 km) 6-8 hrs walk
After your traditional breakfast at Jagat we will move to Deng village which is situated at 1800 meters above the sea level with a distance of 19.9 km. The trail passes through salleri, paimo, Sirdibas and Nyak villages. Trekking through riverbanks and hills with the sub-tropical forest of oak and pine trees with the prominent mountains views gives you the amazing memories.you will cross several suspension bridges along with Budi Gandaki bridge on your way to Deng. Overnight at Deng.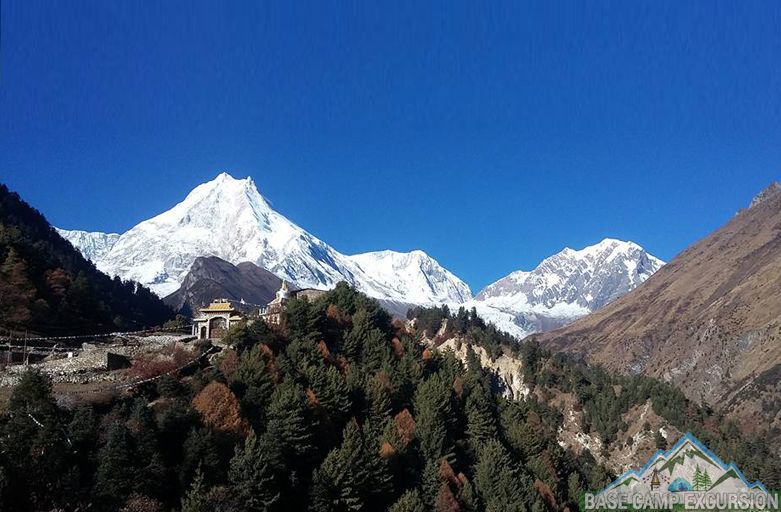 Deng to Namrung (19km) 5-6 hrs walk
Early morning you will wake up at the hotel in Deng, have your breakfast and get ready for your next destination, Namrung. this trial is the most exciting trail among all the other days in your Manaslu Journey. This trail mostly follows the Budi Gandaki river. You will walk beside the river as Nmarung is situated next to the river. Today you will walk around the eighth highest peak in the world Manaslu (8153m) with the exploration of the various culture of primitive ethnic groups of Manaslu region along the way. you will even make your way to Manaslu Conservation area, explore the natural vegetation, picturesque villages and finally reach the destination of the day, Namrung. overnight at Namrung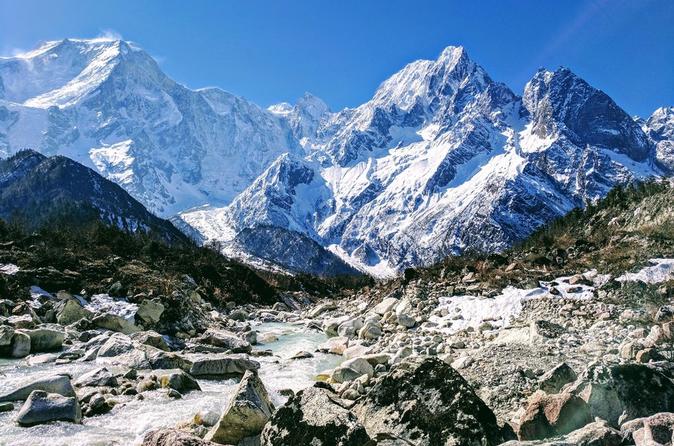 Namrung to Samagaon (17.7km) 5-6 hrs walk
The trek starts in the morning after breakfast passing li, syo and Lhogan with amazing mountain views such as Rupina la pass, Mt. Manaslu, Gorkha Himal, Dwijen Himal, Saula Himal, Lajing peak etc. Manaslu is the perfect composure of natural splendour as well as cultural exploration as we will pass through several Buddhist villages along the way. As we move forward we will encounter Tibetian culture, several Prayer wheel, monasteries, chortens and Mani-wall and finally stop at our destination Samagaon. Overnight at Samagoan.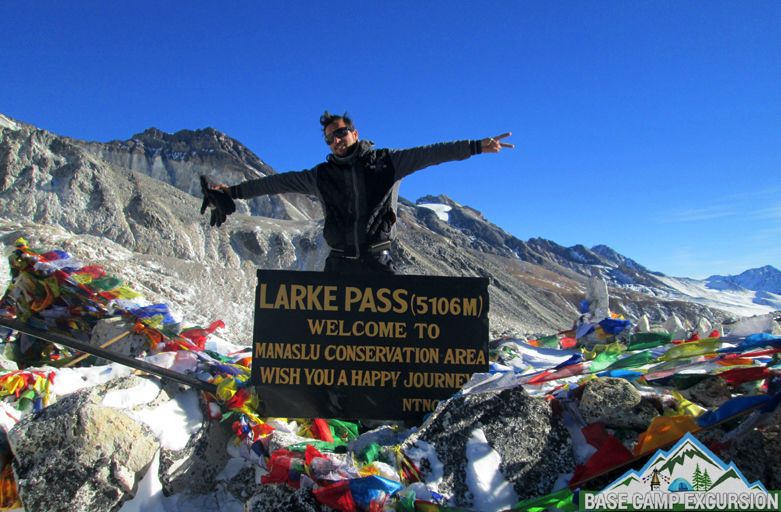 Acclimization day in Samagaon
Today we will spend our entire time exploring Samagoan which is surprisingly large with over one hundred and fifty houses. We will explore typical remote village life along with the Tibetan monasteries, culture and way of life in Samagoan. Today either you can go to Manaslu base camp at an altitude of 4400m above the sea level or go to Punggen Gumba. The hike to Manaslu base camp takes about 5 hours where you can enjoy the peaceful forest and several Mountains views along with Glacier and ice falls. Overnight at Sasmagoan.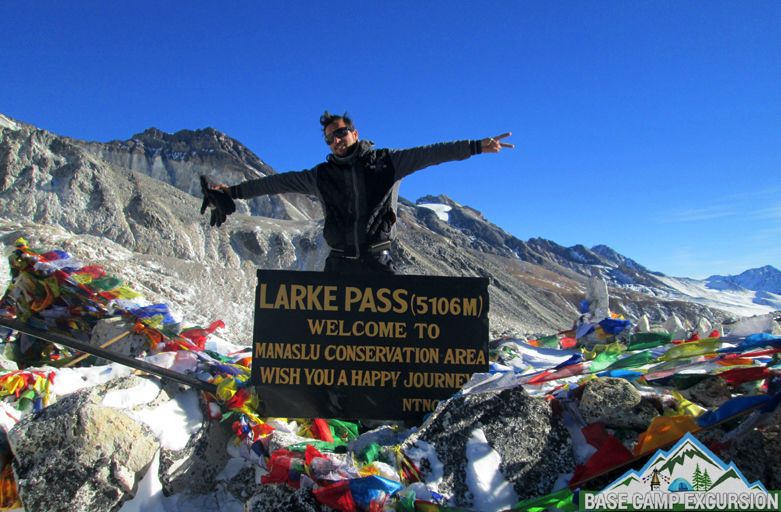 Samagaon to samdo (16.4km) 4 to 5 hrs
After your acclimatization day at Samagoan we will move to Samdo village situated at an altitude of 3690m above sea level. During the trial, one can enjoy the spectacular Mountains views, landscapes close to Tibetian Border. You need a special permit and Manaslu Conservation Area permit to visit Samdo. Your way will be memorablke with the view of Manaslu range, big chortens, glaciers and a lake named Birendra Tal. After passing through Mani walls, juniper birch forest, crossing wooden bridge via Lela Kharka along with Budi Gandaki River you will reach to Samdo. Overnight at Samdo.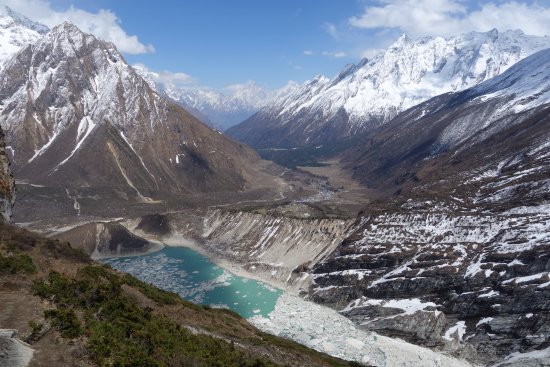 Samdo to Larkye Phedi (11km) 4-5 hrs walk
Today our trial is easier and distance is shorter. Early morning after breakfast we will leave Samdo village and head towards our destination of the day Larkhe Phedi also known as Larke Base Camp situated at an altitude of 4470m. after trekking up to the steep ridge of Fukang Danda along Larke Khola you can stop at some tea house for some refreshment as the view from the top is worth watching. Our trail continues to follow the Budi Gandaki river course and after crossing the east bank of the river we will reach Sumdu. After Sumdu, our trail leads us to Larke Bazar, a seasonal Tibetian market. Overnight at Larkhe Phedi.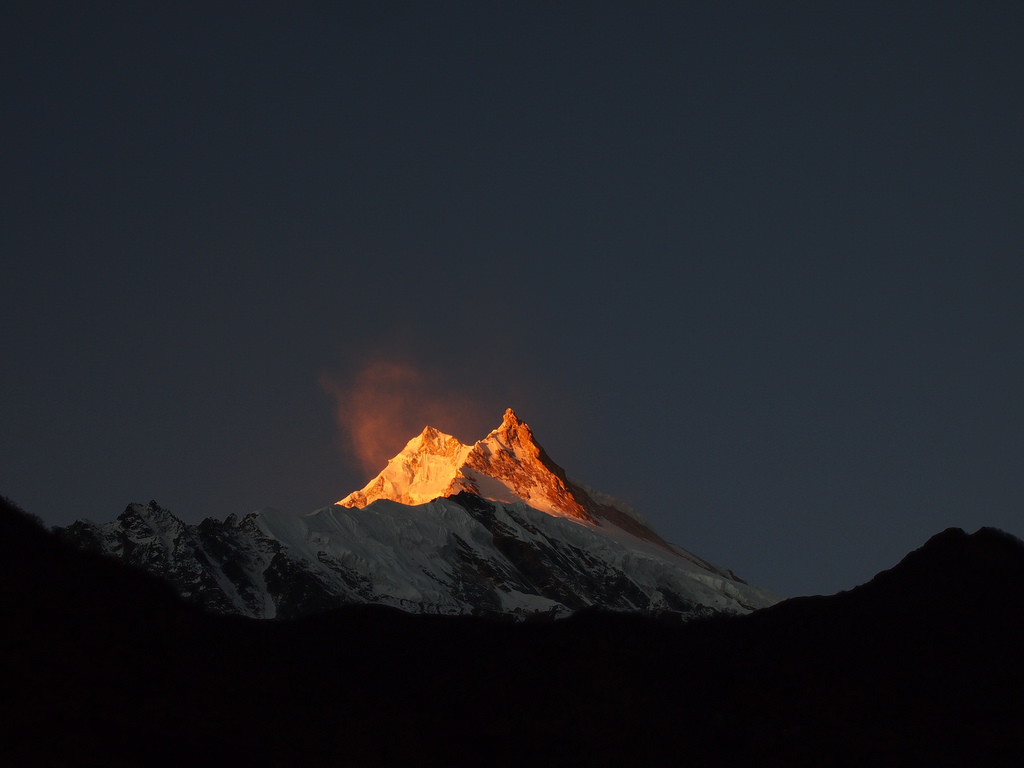 Larke phedi to Bim thang (24km) 7-9 hrs walk
The trail today isn't going to be easy as the distance is longer. Early morning after breakfast we will set up for the long trail through a beautiful lake along with the surrounding mountain views. The trail climbs moraine hills crosses Larka Pass (5213m) and descend down through the slippery glacier to moraine glacier and reach to Bimtang, a valley with a number of deserted houses, from where you will be able to enjoy the tremendous views of mountains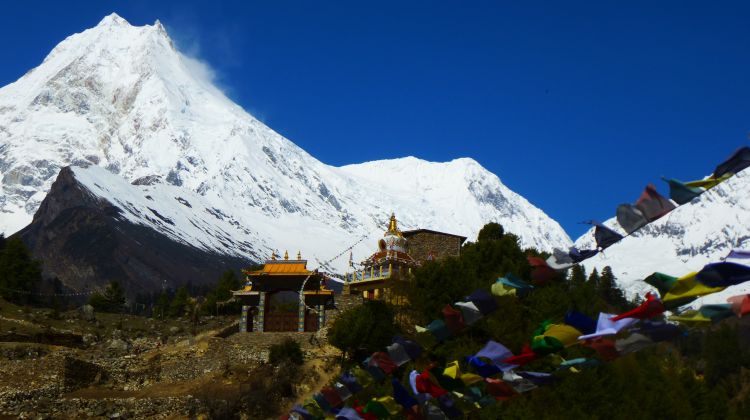 Bimthang to tilje
Your day at bhimtang starts with the traditional breakfast at Bimthang. Looking back at all the journey you have come through, you feel delighted and move towards your next destination of the day Tilije. Our trail continues to Dudh Koshi River crossing a wooden bridge and walking through deep pine forest with the blooming red Rhododendron. Our trail passes through Gho with the majestic Himalayan views and reaches the final destination of the day Tilje.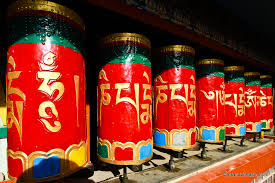 Sirichaur to Besisahar ktm
Our 16 day Manaslu journey almost ends here by our 6-hour drive from Sirichaur to Kathmandu via Besisahar. our drive will be scenic as we will be passing through many villages and after reaching Prithvi highway we will follow the riverside road where River Marsyandgi meet River Trishuli. The outside nature will be wondering which makes your drive refreshing. On the way, you may even want to stop and explore nature and capture its beauty for some moments. After a few hours' drives from Besi Sahar, we will reach Kathmandu. Overnight at Kathmandu.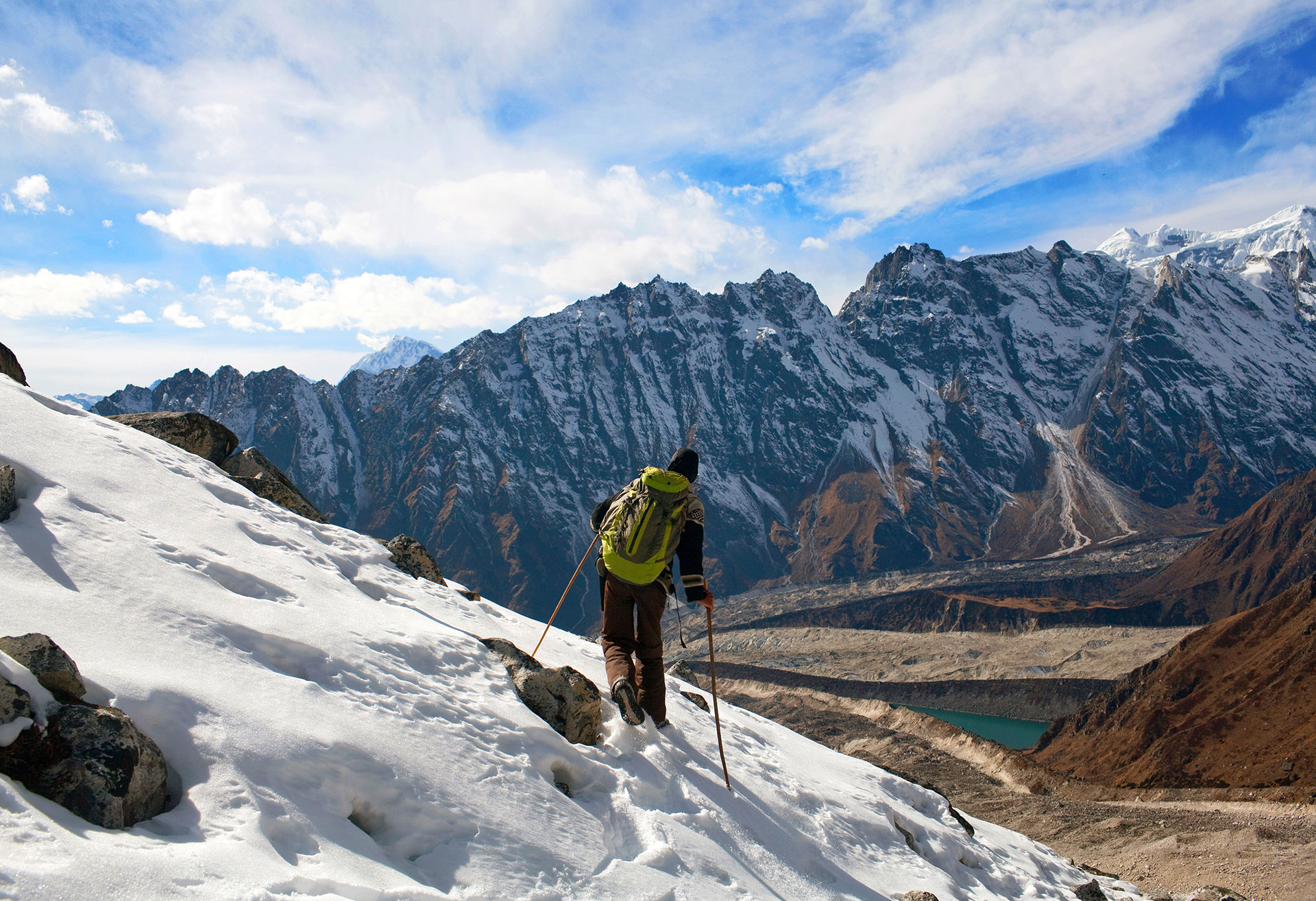 Final Departure.
Today you will be bidding farewell to your short trek in Nepal. A representative from Mega International Tours and Travels will drop you off at the International Airport and wish you for your happy and safe journey.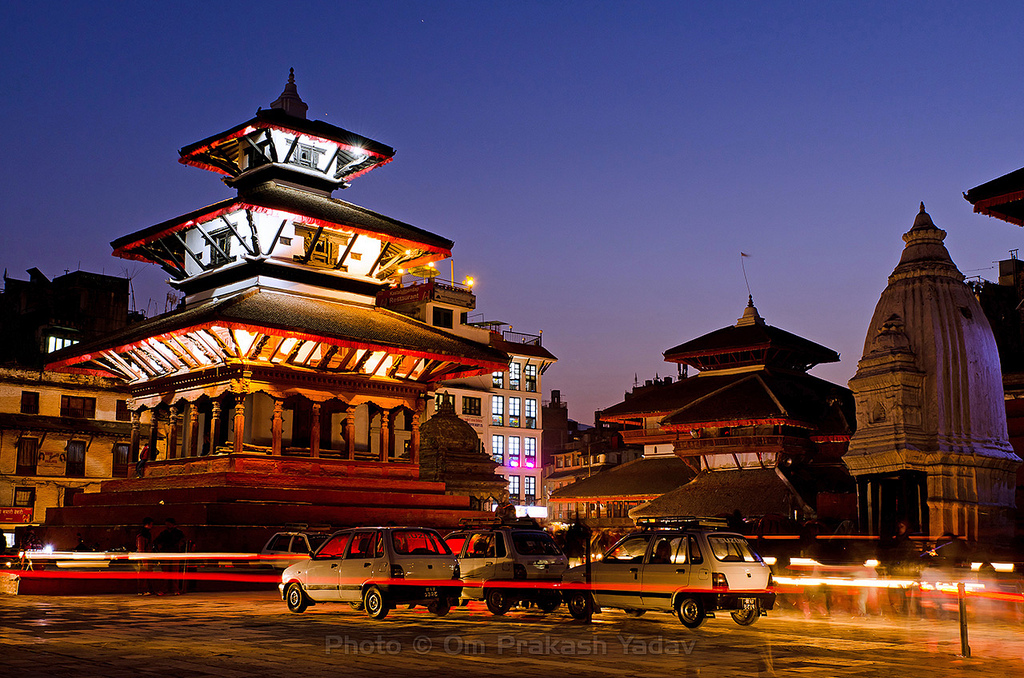 INCLUDES AND EXCLUDES
Includes
Pickup and drop from the airport and Hotel.
Accommodation of lodges, hotels/ homestay
Trekking permit fee
Trekkings maps
Entrance fee to tourist areas
Porter fee
Trekking guide
Farewell dinner before departure
Equipment for the trekker
Government services charges and tax
Excludes
International airfares and Nepal visa.
Emergency rescue evacuation if required
Extra porter and extra luggage
personal belongings and shopping
Meals during the trek.
Any alcoholic beverages and your personal expenses such as laundry and phone bills etc.
Gratitude for guide and porters.