ANNAPURNA REGION TREKKING
Annapurna Base camp trek leads you to the majestic journey towards the Himalayas in Nepal. Your journey to view the spectacular Mountain View also the natural diversity, culture, tradition and way of life of people around the Annapurna region. It is the home of treks in Nepal. The Royal Trek are some of the most famous hiking and trekking trails within the Annapurna Region. You can do short and long trekking in Annapurna region.
Annapurna region Trekking comes next to the Everest Region in terms of popularity. However, in terms of actual visitors, the Annapurna Region is the most visited trekking destination in Nepal. The Annapurna Region was inscribed as a Conservation Area in 1986. The protected region covers an area of 7600 sq. km. around two-thirds of hikers visiting Nepal head to the Annapurna Region every year. In this region, there are easily available guest houses and hotels during the trek & food are hygienic as well. This region offers incredibly diverse scenery, with high spectacular mountains and low land. Annapurna route also offers unique Gurung culture to expose and experience with it. Annapurna region trekking show you the scenery of top mountains such like Dhaulagiri (8,167m), Manaslu (8,156m), Annapurna I (8,091m), Machhapuchhre (6,996m), Nilgiri (6,940m), Tukche peak (6,920m), Annapurna South (7,219m) & rest more.
ITINERARY
Arrival in Kathmandu
Our airport representative will pick you up from the airport terminal and you will be then transferred to the hotel in our private jeep. We will hold a pre-trek meeting where we will brief you about the trek and introduce you to your guides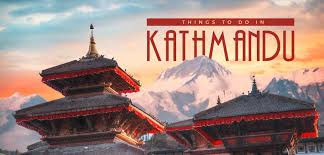 Kathmandu Sightseeing
Today is the day when you will be having your city tour. City tour starts at 8:00am after having your breakfast from the hotel. You will have an authorized city guide at your disposal. You will be visiting world Heritage sites such as Bhaktapur, Patan and Kathmandu Durbar square. Next, you will be visiting Boudhanath and swyambhunath stupas one of the holiest Buddhist shrines in the world. At last but not the least we have Pashupatinath temple, one of the significant Hindu temple attracting Hindu devotees from all over the world. The temple is dedicated to Lord Shiva. Overnight at hotel in Kathmandu.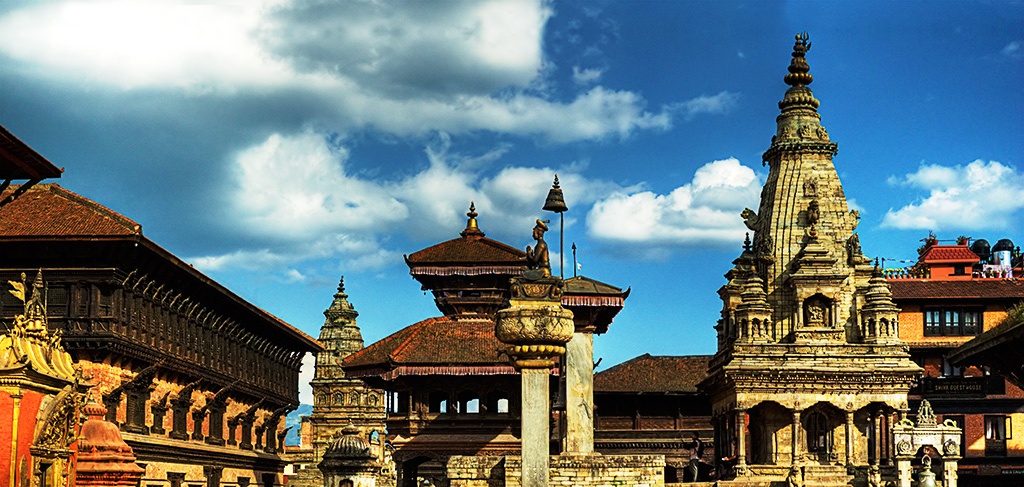 Drive from Kathmandu to Pokhara 7 hrs
Our guide will pick you up from the hotel at 6: 30 and escort you to the tourist bus station. Bus leaves at 7:00 am. After 7 hours of adventurous highway ride you will reach to Pokhara," the city of Lakes".in the evening we will enjoy the lakeside view, walk by the lake and explore the night at Pokhara. Overnight at Pokhara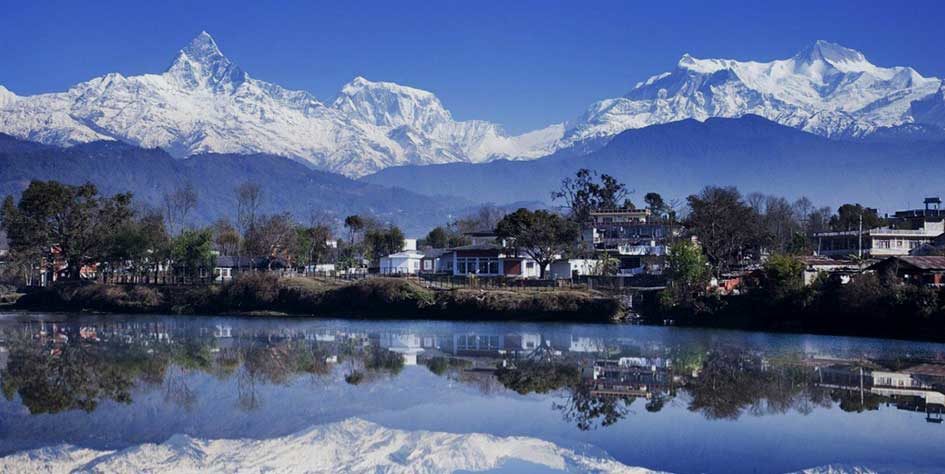 Drive to Nayapul and trek to Tirkhedhunga
Early morning after breakfast, we will begin our trek to Nayapul, a bustling riverside village. After hours of drive from the tourist vehicle from Pokhara, we will reach to Nayapul. From there we will trek to Tirkhedhunga. The walk will be relatively short and easy as it is the beginning of our trek. Overnight at Hotel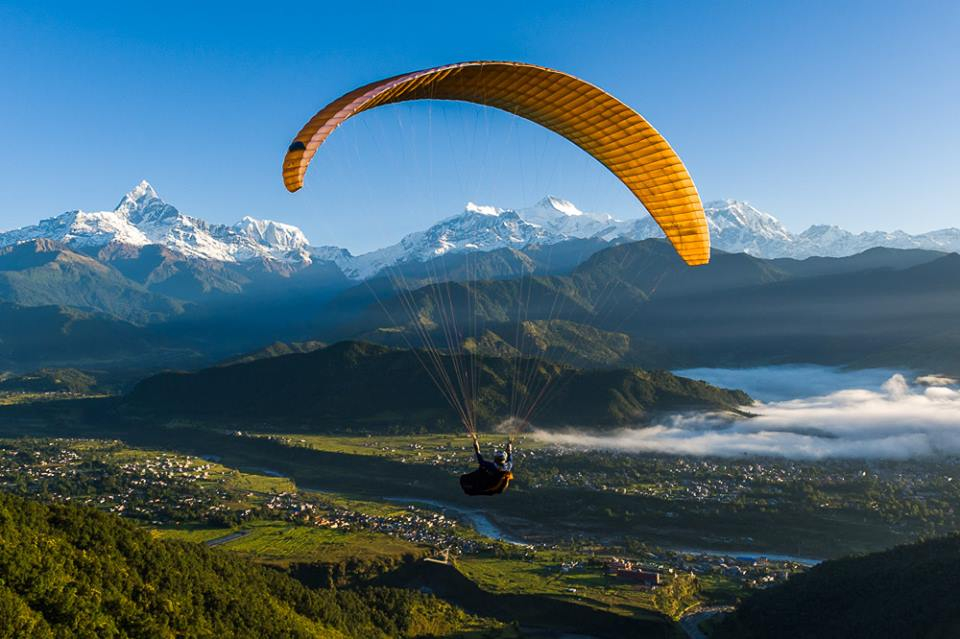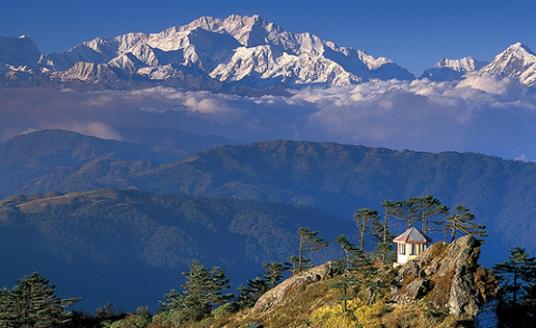 Trek To Ghorepani 2,874m – 05 Hrs.
Early Morning, we will set our next destination to Ghorepani, crossing Tikhedhunga river from suspension wandering the scenario around the villages. The trek becomes more exciting once you pass the Bhurungdi bride and ascends on a 3300 steps stone staircase which would continue to Magar village in Ulleri (2080). From Ulleri, we will pass through the cultivated fields, rhododendron forest cascading river and stop at Nangathanti for lunch. And again after walking for an hour, we will reach our destination in Ghorepani (2874m).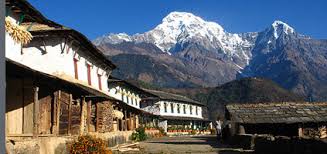 Hike to Poonhill and trek to Tadhapani
Our Day 6 starts with an early morning hike to Poonhill, one of the best Himalayan viewpoints in Nepal. This is the day when you will be able to see the unobstructed view of the sunset over the high Himalayas which will solely be satisfying. All the views of the famous Himalayas including Dhaulagiri, Annapurna I, Machhapuchhre, hiuchhuli etc can be viewed from the spot. you will spend an hour here and return to Ghorepani for a breakfast and from there you will ascend to Tadhapani along the bridges.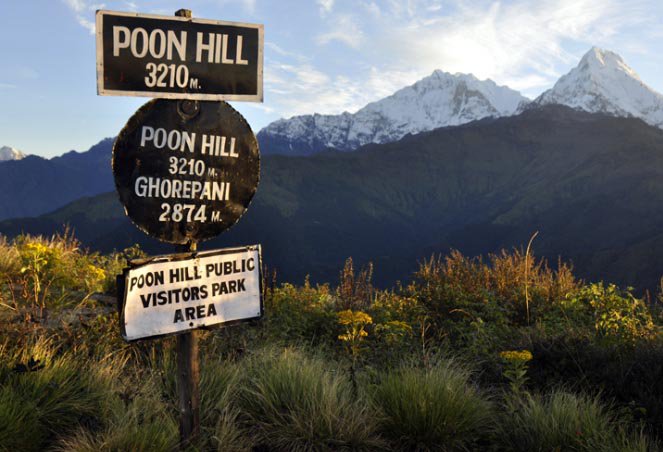 Trek to Chomrong (2140m)-5 hrs
The day starts with trekking from Tadhapani to steep downhill through Rhododendron forest. The trail is built with the explosion of Rhododendron bloom if its spring. You will cross the suspension Bridge and reached to goorjung, a traditional Gurung Villages where young men mostly join the British army. From here the trial will be easier and finally, you will reach the destination of the day chomrong. Machepuchre appears close to this village.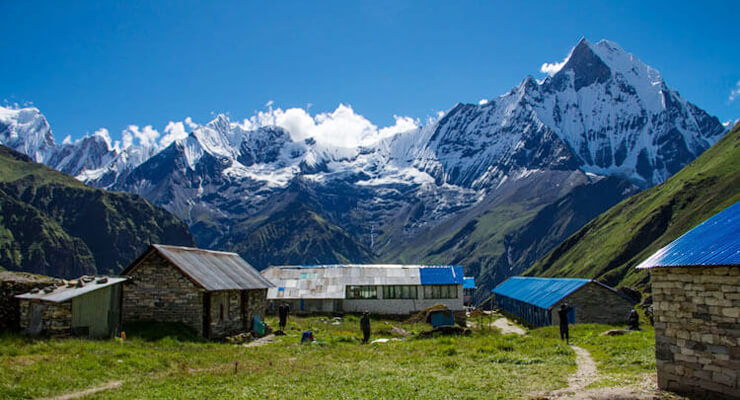 Trek to Dovan
Early Morning you will descend down to chomrong khola and ascend towards Kuldigar at 2380m. There is a clearing in the forest a little forward to steeply down a rock bank running through the thickets of Bamboo. You will again climb above the seep staircase to Dovan.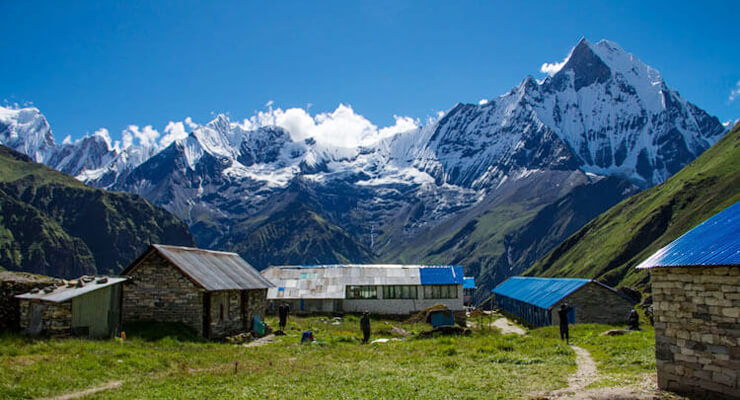 Trek to Deurali
Today's trek will be through a Rhododendron forest alongside the Modi Khola to The Himalayan Hotel. From there we will make our trial to Hinko cave which used to be the earlier Annapurna I expeditions as it was used for the camp. After an uphill walk through the jungle trail, we will reach to Deurali. Overnight at Deurali.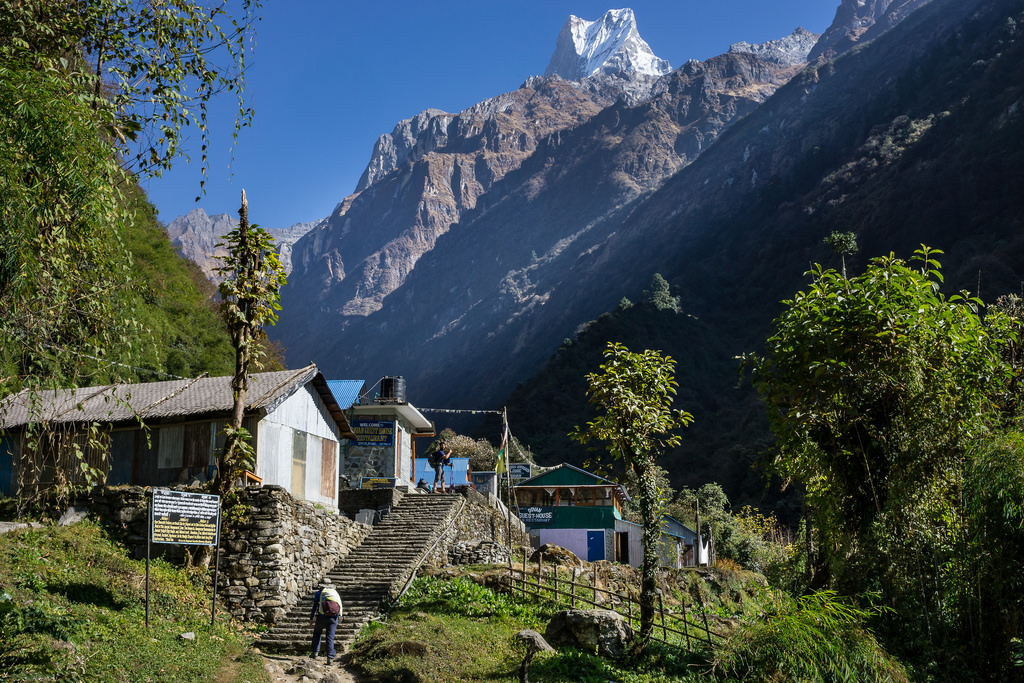 Trek to Annapurna Base camp
Today is the most important and fascinating day of the entire trek, as you will be reaching the Annapurna Base camp. The trail goes pass through Machapuchre Base camp, which isn't really a base camp since climbing Machapuchre is not permitted. From there we will walk for about 2 hours and reach to Annapurna Base camp, witness awesome picture square landscapes majestic panorama of snow-capped mountains. the Annapurna Base camp is a Spectacular glacial basin surrounded by the frozen walls of Annapurna, Annapurna I, Machapuchre and Hiuchuli. So you will get to witness the true panorama of the mountain peaks from the base camp

Trek to Bamboo
Today the trail descends down to Bamboo at 2345m. A small settlement with many tea house and hotels can be a suitable place for the overnight stays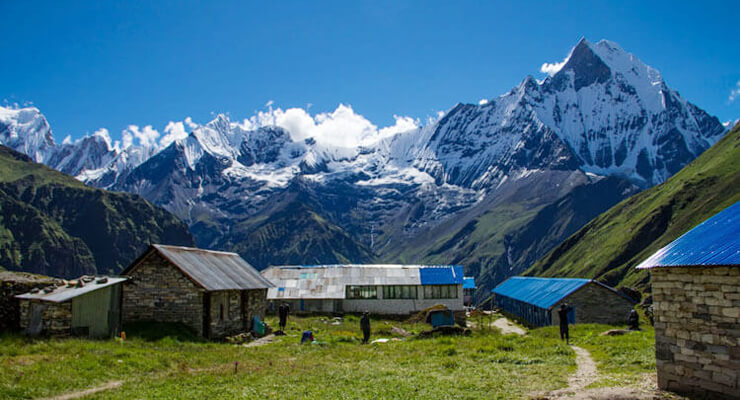 Trek to Jhinudanda (Hot springs in Jhinudanda
The trial will pass to chomrung . once you pass kuldighar, the trial continues through bamboo forest And Rhododendron fields and descends to Jhinu, a hillside settlement famous for its natural hot spring. You can relax in the natural hot spring after your long walk. You can relax here remembering all those beautiful panoramas of the mountain peaks and make your mood lighten. Overnight at Jhinudanda.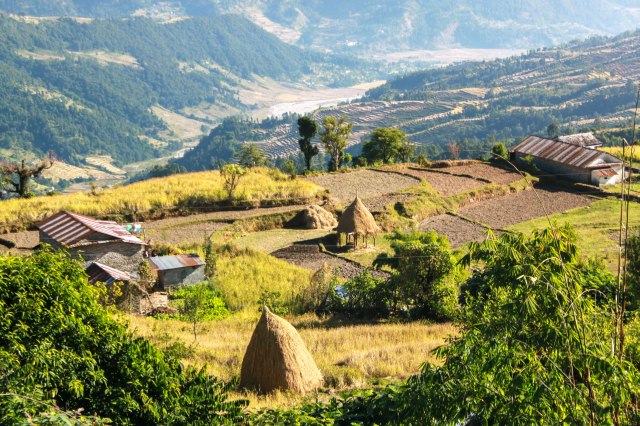 Trek to Nayapul and drive to Pokhara
Early morning after breakfast we will head to Nayapul from Jingu dandha following the side of Modi Khola till Birenthanti. Once you reach Nayapul, you will be taken to Pokhara the city of lakes. You will spend your time in Pokhara exploring the
Drive to Kathmandu
Early morning after Breakfast we will take some time to return back to Kathmandu. Firstly we will drive to Sarrangkot for the sunrise view and have a tour over the lakeside in Pokhara before returning back to Kathmandu. We will see the immense beauty of Pokhara, the caves over there; Davids falls and returns back to Kathmandu.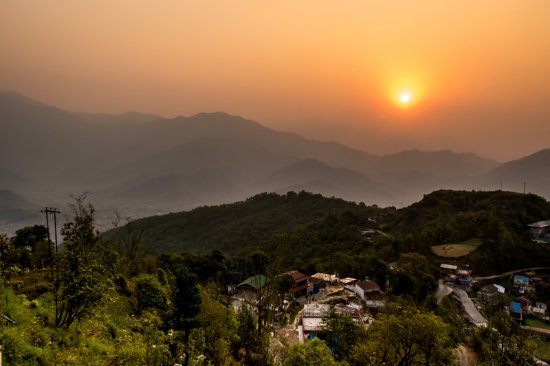 Departure
Today you will be bidding farewell to your short trek in Nepal. A representative from Mega International Tours and Travels will drop you off at the International Airport and wish you for your happy and safe journey.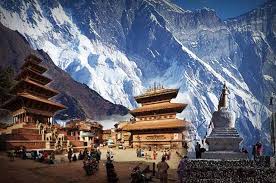 INCLUDES AND EXCLUDES
Includes
Pickup and drop from the airport and Hotel.
Accommodation of lodges, hotels/ homestay
Trekking permit fee
Trekkings maps
Entrance fee to tourist areas
Porter fee
Trekking guide
Farewell dinner before departure
Equipment for the trekkers
Food and accommodations
Government charges and service tax
Excludes
International airfares and Nepal visa.
Emergency rescue evacuation if required
Extra porter and extra luggage
personal belongings and shopping
Meals during the trek.
Any alcoholic beverages and your personal expenses such as laundry and phone bills etc.
Gratitude for guide and porters.